Being an active Blockchain enterprise in the global market, we have been exploring more about Blockchain Technology so far, and quite often we had discussed the current state of blockchain & it's impact on global market and more. But this time, moving one step further, planning to discuss the 3 Types of Blockchain & it's basic insights we think you must know.

In case if you have missed any of our recent topics, you could check here.


How Businesses Can Use Blockchain To Boost Revenue?

How Blockchain will revolutionize the industries?

Why its right time for enterprises to start Blockchain?
Public Blockchain

Private Blockchain

Permission Less Blockchain



Each type of Blockchain uses different level of concept you can see in the below image,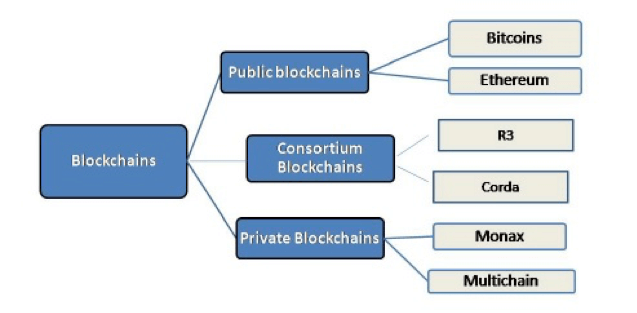 Public Blockchain


The name says everything, public Blockchains which are open to everyone and protected by cryptocurrencies which allows any individuals to read and do transactions. The goal is anyone can participate as a node in consensus process which determines the current state and the block details which get added in the chain.

Bitcoin and Ethereum is the perfect example of this Blockchain. Let's consider bitcoin. Since it's a shared ledger which allows everyone to view and participate.

Since the public Blockchains stays open, it can be used by many entities without acquiring any third party verification. For example, If the manufacturers likes to bring transparency in supply chain of the product life-cycle. Then, he must ensure the transparency of the product like manufactured, processed and packaged, etc.

However, we are allowed to view the product data and will not have permission to write anything on it. Likewise, each stage of the product will bear certain guidelines. When the product leaves from the manufacturer, only he has the permission to write on it. Furthermore, When it moves to the next stage, only the product processor will have the authority to write on it. Likewise, the process goes on. Moreover, Every data written on this chain would be permanently recorded.

Private Blockchain

The major plot of Private Blockchain is that the data will not be available to the public.

Private blockchains "write permissions" are kept open only for specific users or groups or organizations and read permissions might be public but restricted to certain users.

When any individuals involved in business & accounts in which they need to associate regular transactions with one another.

Then these transactions for businesses are segregated as private, and this information will not be available for public view. However, every data will get recorded permanently. And every transaction will get stored immediately so they need not have a separate ledger.

Transactions would get cheaper because they need to be verified only by trusted nodes which have the high processing power. Eventually, this mechanism provides a high level privacy by maintaining restrictions in read permissions.



Permission-less Blockchain

This permission less Blockchains has a mechanism to secure the users of an application, which maintains a protocol that even the developers who built an application will not have any authority on it.

Similarly, Any anonymous users can validate & contribute to your data. But that's not the case here; Asides of all, This Permission less Blockchain will help you to protect your sensitive information efficiently.
Literally, it requires the considerable amount of computing power for maintaining distributed ledger at large scale.

If we take one step ahead to dig about what's these permission and permission-less will help,




Hope now you have a clear insights about the Blockchain Technology and it's types. Despite being a leading web & mobile development company in India, Agira Technologies acts as a central hub for Blockchain Technology.

Besides exploring, our pool of blockchain experts never refuse to share their knowledge with us. You could get more blogs about Blockchain and latest technologies in coming days. Get tuned with us. You could also share your valuable ideas & thoughts with us in the comment section.

For more info reach us at info@agiratech.com