Doctors nowadays no longer have to rely on patient logs and paper reports to make decisions for their patients. Thanks to the latest medical apps for doctors, everything is becoming digital, remote, and more accurate with real-time medical data exchange.
So, either you're going to create a healthcare application, or you're going to employ such software and mobile applications in your medical practice. If so, you've come to the correct spot. Here is everything you should know to build the best mHealth and medical applications for physicians in 2021.
Medical Reference Applications
It's difficult for doctors to remember all of the medical knowledge concerning illnesses and medications. Furthermore, numerous medical publications contain new trials and discoveries that doctors must keep an eye. Care providers want to stay on top of the latest developments, but it isn't easy to spend all their time in front of a computer doing research and reading material. Medical reference applications come very handy in this situation.
Core Features of Medical Reference App
Use categories and filters to narrow your search.
access to medication and disease-related information
Medical processes and illness photos and films.
access to medical and research publications
calculators for medical purposes (body mass index, glomerular filtration rate, etc.)
medical quizzes and tests
At Agiratech, we take each project on its own merits. Our programmers utilize parsing to get medical reference data. Also, to scrape the information we want, we may split HTML pages down into tags. Scrapy, a package that helps us extract data from web pages, is the best for this. Our resume parser case study is also worth reading.
Also Read: How We Build Industry Transforming Healthcare Applications?
Medscape is one of the most popular medical applications on the App Store. You can get news items from 34 different health disciplines. It also features a clinical reference area covering medication safety standards, video lectures on various procedures, and student education activities.
Skyscape is another software that contains medication information, medical searches, medical calculators, and information on over 800 different topics.
Doctors Networking App
How do medical professionals communicate with one another? They meet up at conferences, phone each other, or share via email. This, however, takes time, which might be excessive when a doctor needs a response quickly to make a critical choice or seeks guidance on a unique situation. A mobile application that contains a network of peers and a robust community that healthcare professionals may access at any time.
DailyRounds is a medical company located in India. It is a social network and a medical magazine rolled into one. The software allows caregivers to interact with one another and exchange helpful advice and ideas. It also provides users with access to a drug database and the ability to submit and read medical case files. DailyRounds gives lessons as well as coverage of major national and worldwide events. Also, it updates new medical information every week to provide users with new clinical situations and photos to challenge themselves with.
Core Features Of Professional Networking App
File and picture sharing
Chat options
Medical Journals
Access to medical information
Medical events
Users are the most crucial aspect of every social network. It may be easier to recruit consumers if you have an extensive network of caregivers. So, you'll need to come up with incentives for users to join your network if you don't already have one. An employment board (such as Among Doctors) or a medication database are examples of these incentives (like DailyRounds).
Patient Health Tracking Apps
From the first appointment to the last, care professionals keep track of a patient's health. To make informed judgments, they examine a large number of lab findings on paper. With a digital solution, healthcare practitioners may also give orders to nurses or prescribe other therapy remotely.
The VitalHub Chart app allows physicians to view patient information from hospital EMR systems in real-time. Also, quick summary views and patient records, test results, crucial results, orders and statuses, medication history, and allergies are all available to healthcare practitioners. Different layouts for medical professionals such as physicians, nurses, and pharmacists are available to accommodate unique workflows.
Patient Health Tracking App's Main Features include
Access to Electronic Health Records (EHRs), patient lists, and charts.
Place orders in the lab
Lab results reporting
Prescription management
Alerts regarding crucial patient health outcomes
A medical app can help you keep track of your patient's medical information and make finding data for diagnosis much more accessible. Apple HealthKit integration can also assist healthcare providers in receiving data about their patients' health. Our engineers recommend utilizing a Core Data or Realm mobile database to store data in a medical app.
Doctor Appointment Booking Apps
Clinics find it challenging to keep a handwritten appointment log. What if someone forgets to call and cancels? Care providers may use the best doctor on-demand applications to automate appointment scheduling. There's no need to call a clinic and make an appointment the old-fashioned way because everything can be done using an app. Clinics will always be alerted of changes and will be able to keep track of patients heading their way thanks to doctor appointment app development.
Also Read: Top Healthcare Apps Transforming Medical Industry In The US
Core Features Of Doctor Appointment Booking Apps
Locate in-network providers in your area.
Find physicians based on their specialties, location, availability, or health insurance.
View appointment times on the network
With a tap handle, you may book at any place.
View booking history and integrate doctor calendars with leading payment gateways.
View and modify appointments (including past and canceled appointments).
Patients will avoid waiting in lines if a medical app with a booking feature is developed. So, users can utilize online booking at any time, even late at night. One can use a custom calendar or a time and date picker to make a reservation. Also, you may use Omise or Stripe to make payments. one may use WebSockets to allow users to connect with one other on your platform via chat.
Telemedicine Apps
Care providers can utilize telehealth programs to allow patients to have an online medical visit to better serve them and be more accessible. The top doctor on-demand applications connect care professionals with patients via mobile devices and provide online consultations, removing the need for people to attend medical locations. Some patients are confined to their beds or are in critical condition, but with the help of applications, they may reach a healthcare practitioner in no time. So, that's why people who wish to interact with an online doctor should use a doctor appointment app.
Core Features of Telehealth Apps
Personal profiles,
audio or video conversations,
messaging,
viewing connected data such as X-rays, scans, and other telehealth capabilities
Payment portals,
leaving notes, and writing prescriptions
We propose utilizing the following technological stack for developing a telehealth app. Use Twilio to make video and audio calls. Also, use WebSockets, Socket.io, or PubNub to implement chat options. You may use Omise, Stripe, or Paypal to implement a payment gateway.
Medical Calculator Apps
In the medical field, precision is critical. Precision guarantees that both physicians and nurses provide the finest possible care to their patients. Medical software calculators are now embedded in mobile healthcare apps for doctors allows them to ensure precision.
What are the benefits of using a medical calculator app? They're formula-based software with hidden complexity.
Furthermore, these medical applications for doctors are frequently used by experts to compute things like heart rate, pain management doses, pregnancy due dates, weight, and others.
Dr. Joe Habboushe and Dr. Graham Walker founded MDCalc, a healthcare mobile app development company, ten years ago. Rather than merely calculating the score, they chose to place a heavy focus on clinical decision criteria and evidence-based medicine while building the app.
Core Features of Medical Calculator Apps
A wide range of medical calculators
There is no need for internet connectivity.
Easy to use software with configurable lists for fast access Ability to offer correct results based On specialty, recently used, or favorites
Sleek and user-friendly interface
The mobile healthcare apps for doctors are not a substitute for professional medical advice. With a plethora of decent portable calculators currently on the market, you'll want to focus on app development. Elements such as medical literature references, graphs, tables, and mathematical comparisons can be included.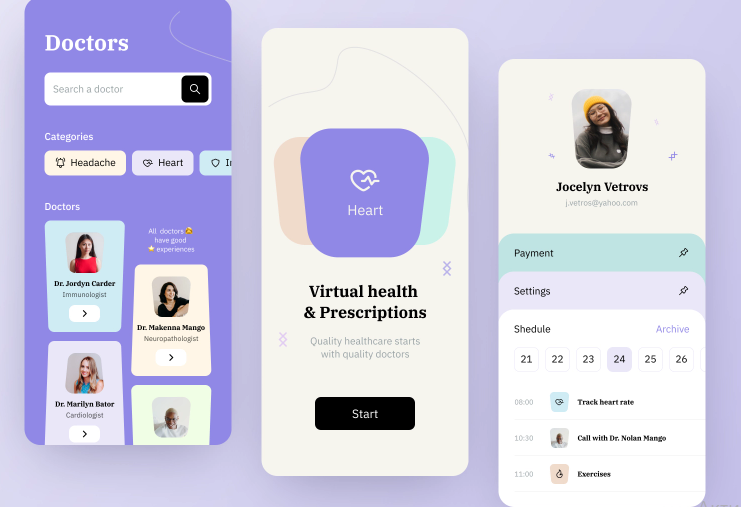 ePriscription Apps
Medication management and e-prescription applications, as its full name implies, assist doctors in prescribing and refilling medications in real-time. Doctors may ensure that their patients take their drugs on time by using e-prescription mobile applications. In addition, this eliminates the need for patients to wait in queues to get their prescriptions renewed.
The applications are not only for doctors. Also, they make it simpler to enable collaboration throughout the whole ecosystem by establishing links between prescribers, pharmacies, and patients.
ePrescribe is a medical smartphone software that allows clinicians to prescribe restricted drugs while adhering to legal guidelines. Also, the app is packed with over 3,500 FDA approvals.
Core Features Of ePriscription Apps
Database of drug references
Integration of electronic health records
Integration of CMS and CRM,
Push alerts and prior electronic authorization.
Considering the sensitivity of the personal medical data, medical applications must adhere to all applicable rules and regulations.
Other Medical Apps For Doctors
Medpage Today – Medical News Apps For Doctors
MedPage is an online medical news service for physicians and healthcare workers considered Medscape's main competitor. Medpage's creators have collaborated with Thomas-Reuters Healthcare to supply its consumers with prescription medication monographs and disease pathology information. Free CME/CE credits are also available at your fingertips.
Visual DX – Medical Image Library Apps For Doctors
Visual DX, a division of Logical Images, has created the world's most extensive digital medical image collection, with over 90,000 peer-reviewed images. All ages, skin types, and disease severity, and stage differences are represented. Also, Visual DX is built on the foundation of this vast library, which is ever-growing.
AHRQ ePSS – Primary Screening Recommendation App For Doctors
The U.S. Department of Health and Human Treatments (HHS) designed and developed ePSS to aid primary care doctors in determining whether screening, counseling and preventive medicine services are suitable for their patients.
Also, the material in the ePSS is based on current guidelines from the U.S. Preventive Services Task Force (USPSTF), and it may be searched by particular patient variables, including age, sex, and behavioral risk factors.
Don't hesitate to contact us if you want further information on creating a digital environment in your facility or if you have a business concept to build the best apps for doctors. We're a healthcare mobile app development firm that can offer you an estimate and perform market research and business analysis to help you come up with the most satisfactory solution for your target market.