If you are a fan of the programming, we have got a lot of new hot releases this week. Every one of us wants to stay up to date with the latest technology news and viral articles around the web. Finding these articles takes a lot of time and effort while we are all caught with other responsibilities. But don't worry, we have got you covered. We have gathered all the new updates, trending tutorials, conferences around you, and much more exciting things.
Let's dive in!
LATEST RELEASES
Laravel 6.7.0 Released
Release date: December 12, 2019
Version 6.7.0
Laravel has released its latest version 6.7.0 this week yesterday with more cool features and additions. This latest version comprises of new additions, changes, and fixes. Have the details on features and upgrades from the link given. Get clear insights on the new features from here. Read the release notes of the latest version on its official website.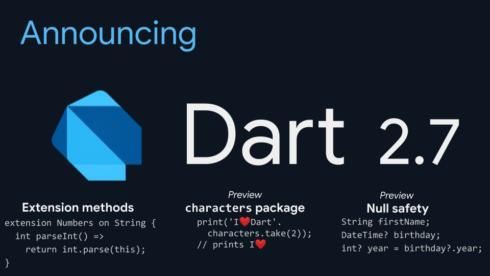 Dart 2.7 released
Release date: December 12, 2019
Version 2.7.0
The latest release of Dart is safer and more expressive with added support for extension methods. Being popularly known as the client-optimized programming language, Dart has concentrated keenly on the safety. The new release comes with a new package for handling strings with special characters. There is an update on null safety and you can endure a new null safety playground experience in DartPad. Read more.
THE ULTIMATE GUIDES
Finding a pretty comprehensive and good Golang tutorial involving SQL databases. Every GO developer knows the pain of performing tasks related to SQL databases with GO. The reason behind this challenge is the existing tools in the Go ecosystem force application developers to hand-write mapping functions or litter their code with unsafe empty interfaces. Click here to read this comprehensive GO tutorial.
TECH NEWS
DevOps offers highest tech pay: TOI
The DevOps developers earn the highest salaries in many companies including India. A report by stack over flow states that the median salary for DevOps specialists is $125,000 while Indians get $15,000. Followed by DevOps, comes the data scientists. They are the second highest paid specialists with $100,000 in the US and a little less than $15,000 in India.
Netflix Open-sources Metaflow

Metaflow is a Python library which is called a human-centric framework for data science by most developers. Being used internally by Netflix for 2 years, they are open-sourcing it. The framework is used by Netflix for building and managing hundreds of data science projects. It provides a unified API to the infrastructure stack that is required to execute data science projects, from prototype to production. Read the news here.

Want this cool weekly roundup delivered to your inbox? Don't miss another exciting blog that we publish. Subscribe to us now. Stay connected by following us on social media platforms!